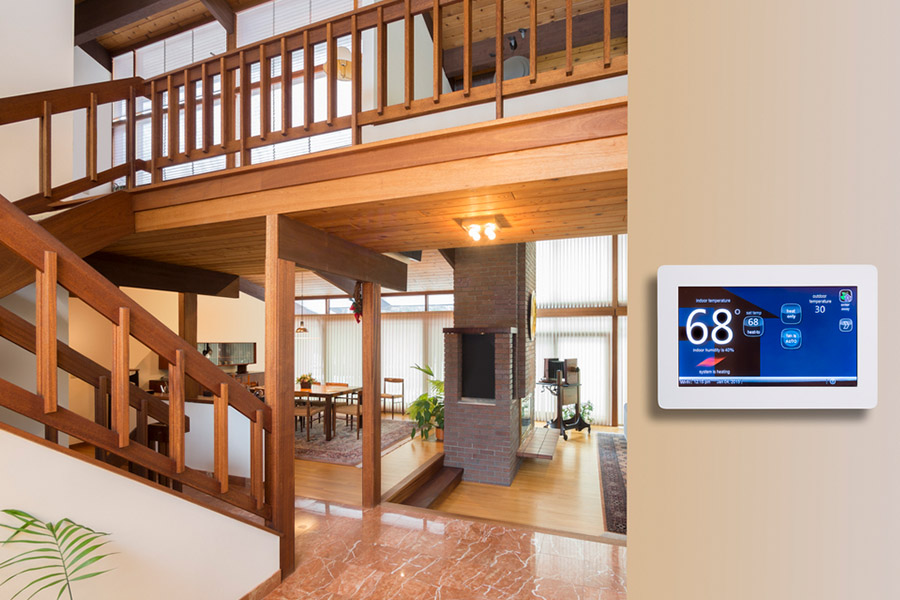 Why Install A Smart Thermostat In Modesto?
The latest smart thermostats have progressed well past the point of being just a basic mechanism for regulating your home's comfort levels. If you want to install a smart thermostat in Modesto, you're going to gain a wealth of comfort with less effort on your part. Equipped with wireless connectivity, sensors for multiple rooms, and the convenience of home automation, these revolutionary controls will help lower energy expenses and make your home truly comfortable and safe.
What Are Smart Thermostats In Modesto?
Once installed, your smart thermostat will run in a similar manner as your previous model in terms of basic usability. The design may be a bit more elegant, but you can still see the current temperature. You will still increase or decrease your temperature settings directly at the unit, and a smart thermostat continues to allow you to choose from cool, heat, and fan.
But, if you install a smart thermostat in Modesto, you will benefit from a wide array of advanced possibilities. That's because your home's comfort control is connected wirelessly to another network within your home, like your virtual assistant or home security system. With a central interface or smartphone app, you may set your smart thermostat to change the temperature in an automated manner at specified times or to act in response to a triggered event in your network. The result is a property that is more energy conscious and comfortable.
It Makes Sense To Install A Smart Thermostat in Modesto
There are a range of reasons to upgrade your traditional thermostat to a smart thermostat:
● Simple management with a cell phone app. Manage the thermostat from a distance with a cell phone app such as the easy-to-use option from ADT. Are you feeling a bit overheated as you're struggling to get some rest? Simply grab your smartphone and lower the temperature without getting up. Or check on your home's temperature readings while on summer break, and adjust the temp to conserve energy when nobody's there.
● Take advantage of scheduling. A smart thermostat gives you the ability to use smart schedules for your home's comfort. Program different temperatures to best fit your lifestyle. Bring down the temp as you prepare for sleep, then raise it again a little bit before you wake up. Or design specific scenes for specific occasions -- like a scene for when you're having guests over or another for when you use the fireplace.
● Reduce energy consumption with automation. An incredible advantage of using smart thermostats is how they can reduce your heating and cooling bill. Because you can simply adjust comfort levels as needed due to the season, weather, or your normal daily routine. You'll never throw money away heating a vacant residence. Additionally, when implementing schedules, your thermostat adjusts itself. Various utility companies are known to extend incentives and rebates under specified circumstances.
● Make use of voice activation to manage your home. If you choose to install a smart thermostat in Modesto, you also have the opportunity to program it to function with a smart speaker device from Amazon or Google. This allows you to control the settings without stopping what you're doing.
● Join your thermostat to other home automation items. If your smart thermostat is part of a comprehensive home protection plan, you can connect all your devices into an interactive group. This helps safeguard your house from environmental emergencies. To illustrate, you may set your thermostat to activate the exhaust fan when your fire alarms sense excess heat.
Make The Switch To A Smart Thermostat In Modesto Today
When your old thermostat falls short of meeting your needs, it may be time to think about switching to a versatile "smart" model. These wirelessly connected components are sleek, simple to operate, and can save money over the long haul. You stand to reap the most benefit when you link it with a state-of-the-art home security system. Call us today at (209) 226-4324 or complete the form on this page to request your smart thermostat.